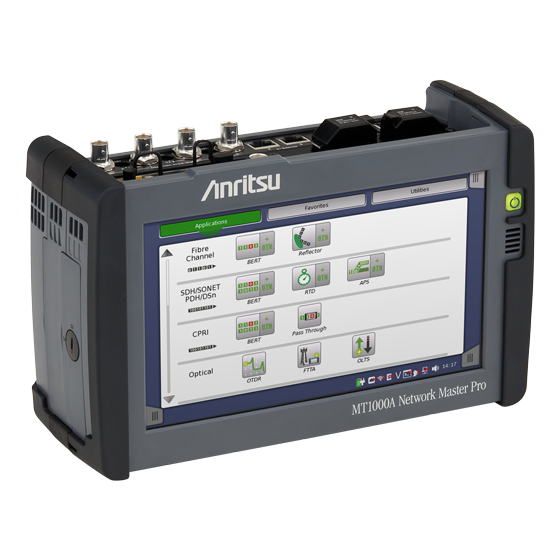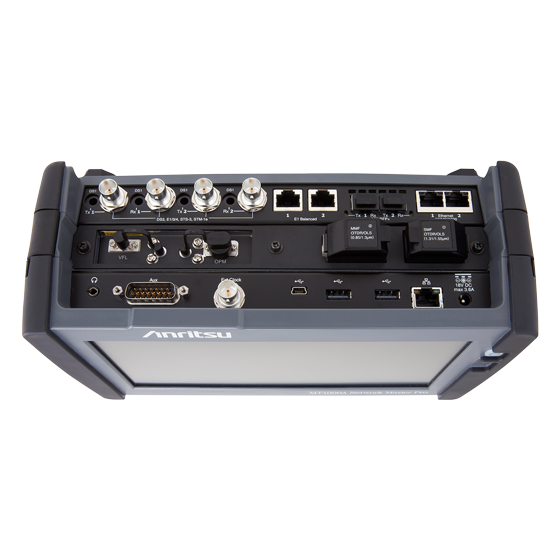 Network Master Pro - MT1000A
Link til: MT1000A OTDR  Brochure
Se video: Automated Test Solution
Se video: 100G Solution
Se video: Redefining transport testing
Meget mere om Anritsu transport tester og dets egenskaber på dette link - Network Master Pro
Ved køb af 1 stk. instrument tilbyder vi 1 dags gratis undervisning i brugen af dette (1 person), dette udføres af FiBERDK (uafhængig uddannelses partner)
The compact, battery-powered and easy-to-use Anritsu MT1000A provides everything needed to install and maintain communication networks in a rugged, field portable package. This lightweight instrument simplifies the daunting task of collecting and interpreting data with an easy-to-use GUI and clear summaries allowing users of any skill level to operate the instrument to its full potential.
The MT1000A is multi-function tester that can be configured with an array of transport testing functions and OTDR modules to ensure you have the tools you need today plus the expandability for future technologies – all of which are field upgradeable.
Verify proper fiber installation and fiber loss characteristics are within the specified budget
Fiber Visualizer simplifies testing with an easy to read graphical summary of the results
Ability to toggle between graphical summary and traditional OTDR trace
Specialized testing modes simplify operation
High resolution and dynamic range ensure quick and thorough fiber evaluation
Intelligent analysis software identifies problem splices, connectors and even macrobends
Test multiple wavelengths with a single unit
One button PDF report generation
Standard power meter and light source
Visual fault locator option
Verify fiber end face condition (dust, scratches) and cleanliness with optional connector inspection microscope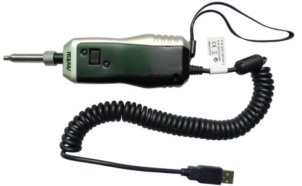 Transport Equipment Installation and Performance Tests
The MT1000A transport module provides robust Ethernet/IP client service verification using industry recognized benchmark test applications driven by IEEE, MEF & ITU-T standards bodies in an intuitive, easy to use graphic interface. It supports both electrical and optical Ethernet/IP industry standard interfaces from 10Mbps to 100Gbps in a scalable platform configured to your network requirements. The Network Master can generate, monitor, capture and report a variety of Ethernet/IP Client services including voice, data and video services. Also supported are Ethernet, IP, MPLS and PBB-TE packet transport as well as circuit based transport. The Network Master enables you to deliver confidence in your Ethernet/IP client service performance as your network grows and evolves with your business demands.
All-in-one transport tester

Supports speeds from 1.5 Mbps to 100 Gbps
Support for current (Ethernet, CPRI/OBSAI, OTN, Fibre Channel) and legacy (SONET/SDH/PDH/DSn) technologies Full suite of Ethernet benchmark tests RFC2544, Y.1564, RFC6349

Simultaneous dual-port measurement at all rates
WLAN*/Bluetooth*/LAN connections
Test reports in PDF, CSV and XML formats
Mobile Base Station and Antenna Installation
Two SFP ports for CPRI interface
Analysis of RF IQ signal frequency characteristics for CPRI data
Transmission of fixed IQ pattern
Various modules

OTDR Module
Transport 10G module
CPRI RF module  

NEW

Compact, rugged design provides years of service in the most challenging environments
Large 9-inch enhanced display for easy viewing of results indoors or outdoors
Linux OS provides quick boot up and stable, virus free operation
Easy and intuitive GUI
Simple SETUP, TEST, RESULTS three window operation
Modular design with field installable modules and options maximizes your investment
WiFi/Bluetooth/LAN connectivity
Multiple remote control options including VNC
Comprehensive, customizable report generation
OTDR and 100G transport module can be simultaneously installed  

UPDATED

Available CPRI RF Measurement Module to display LTE spectrum of CPRI uplink and downlink signals
BBU Emulation  

NEW
* Available for certified countries and regions including USA, Canada, Japan and all EU countries.