Cable, connectors and panels
Cable, connectors and panels
HUBER+SUHNER designs and manufactures cost-effective high-performance balanced copper systems to support applications up to and including 10GBase-T and remote powering (PoE+). Our tailored system solutions offer proven and reliable performance characteristics which exceed all of the relevant cabling standards found on the international market.

HUBER+SUHNER copper systems allow operators to utilize the full capacity and transmission distance of their balanced copper infrastructure without compromising flexibility and handling. Built from high quality, proven components, the Category 6/Class E and Category 6A/Class EA system solutions operate to 250 and 500 MHz respectively, with overcapacity built into selected components for enhanced longevity and upgradability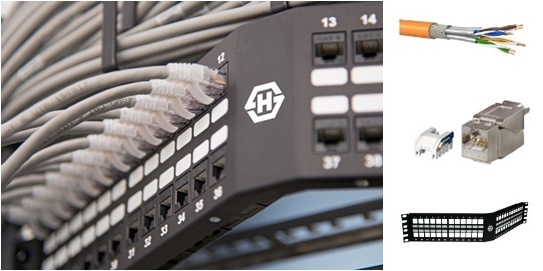 Key features
High performance
High performance Cat 6 and 6A products ranges ensure efficiency throughout the link and guarantee optimal connectivity for all applications.
Easy installation
All copper products are designed so to guarantee easy, fast and flexible installation for technicians on site.
Pre-terminated for faster installation
Pre-terminated cassette systems reduce the infrastructure installation time by as much as 75 % compared to conventional field-terminated jacks. Pre-terminated products also guarantee the performance of the system through factory-controlled manufacturing and testing procedures.
Ready for all applications
The comprehensive and complete copper portfolio covers all market requirements and can be used in most copper applications.